Most Precious Blood Catholic School Home
Home Page Main Image Shuffle
Catholic Schools Make a

Difference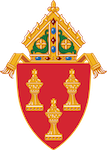 It Is Here Where Students Shine
We are now registering new families for the upcoming 2022-2023 school year. Contact the school office for more information.
Thank you for visiting our new website! Please check back often as updates are made, and click on article headlines to view full stories where applicable.
Keep up with the latest information from MPBCS!